Barnyard Rules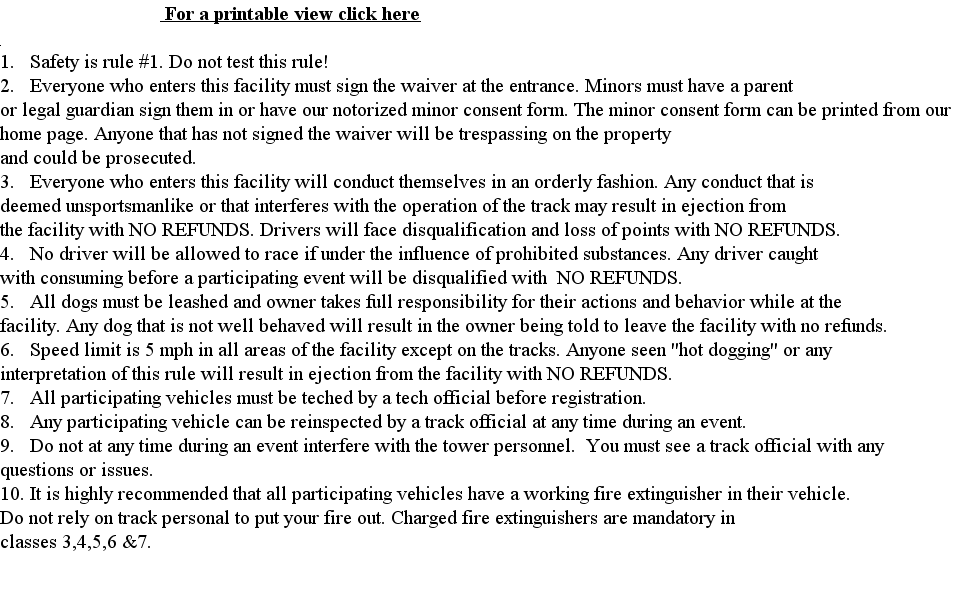 11. Seat belts and helmets are required for all events.
12. All vehicles must have brakes and reverse to participate.
13. All batteries must be secured with approved battery holder.
14. All non-street vehicles must have a kill switch within drivers reach.
15. All vehicles must be free of any debris to participate.
16. Maximum of two drivers per vehicle per class, 2 class maximum in deep mud.
17. Mandatory solid hook on rear of all deep mud vehicles.
18. Mandatory neutral safety switch on all vehicles.
19. All open top vehicles must have adequate roll bar. Track officials will have final say.
20. All vehicles must be in the staging area when their class is called. Only staged vehicles will be allowed
to race. You must be in your truck and ready to race when your class is called.
21. No dirt bikes allowed.
22. No refunds will be given once registration is closed.
Rules are intended as a guide only for the safety of all who enter the facility. No guarantee is intended to remove the possibility of injury or death while attending any event on the premises as a spectator, participant, official or volunteer.Anyone that witnesses any activity, condition or event that they feel is unsafe must report it to a track official or securityimmediately. Management reserves the right to add or remove any rules at any time.